1995
---
Monday 4 December
Single release: 'Free As A Bird'/'I Saw Her Standing There'/'This Boy'/'Christmas Time Is Here Again'. Parlophone/Apple/(cassette)/(CD).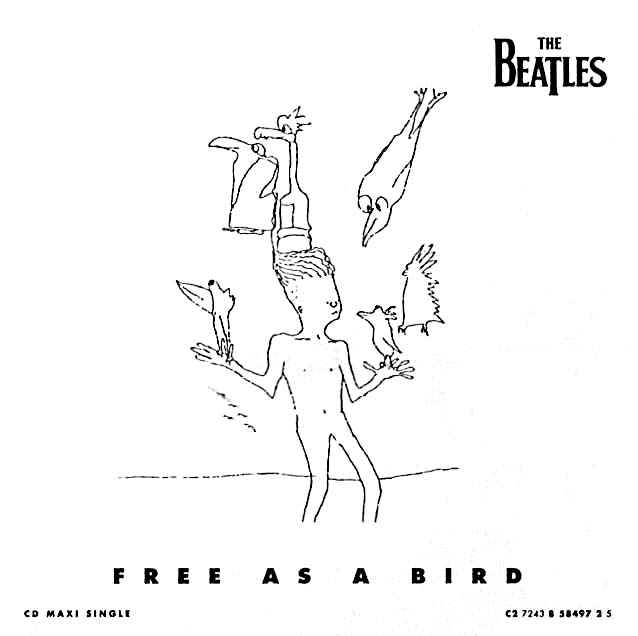 The vinyl single and cassette single of Free As A Bird feature another of those rare Lennon/McCartney/Harrison/Starkey compositions, Christmas Time Is Here Again. This is a four minute edit of the original six and a half minute version. This new version was previously unreleased and includes spoken word seasonal greetings.
The Beatles reportedly had a hard time deciding which versions of This Boy and I Saw Her Standing There should appear on Anthology 1 - which led to the studio out-takes appearing as B sides to Free As A Bird.
Yoko Ono admitted that it was a "very, very big decision'' to release a homemade tape of John Lennon singing on the first Beatles record in 26 years, but she felt it would be wrong to stand in the way of a Beatles reunion. Speaking 15 years after her partner Lennon was shot in New York, Ono said the decade after his death had been incredibly frightening and she had forgotten what pleasure was, "I don't regard pleasure as part of my existence any more," Ono told the Daily Mail newspaper.
George Martin was frequently questioned as to why he didn't produce Free As A Bird:
George Martin: The Beatles are very good record producers and they don't need me anymore. They wanted to keep this project to themselves as much as possible. I knew about it, I knew it was happening and there was no rancour about it. What they did with John's tape is exceptionally clever and very good. Jeff Lynne has done a brilliant job, and having heard it now, I wish I had produced it. I've been working on Anthology all year, and if I had to choose between working on the single or the album, I'd have chosen Anthology, because it's the bigger one.
To Apple, EMI and many fans' disappointment, Free As A Bird, the first new Beatles single in twenty five years, failed to enter the BBC's 10th December chart at number 1. Paul McCartney was believed to be particularly upset by this result - even more so when he heard that the record keeping the Beatles from this pole position was by Michael Jackson .
The critics greeted both Anthology 1 and Free As A Bird with less than outright enthusiasm. A large number of the reviews were negative, some even blatantly hostile, greeting the reunion with plenty of sarcasm.
George Martin: It's not as great as Strawberry Fields, but it's much better than some other number ones they had.
The favourable reviews at least recognized the limitations history had imposed on the song:
Multiple time signatures, modulating keys, a melancholy lyric, over three minutes play-time and a ukulele? Who do these guys think they are - the Beatles? Well, yes. The Fab Four are back with a song that they might have dismissed as uneven in their heyday, but is inventive enough to remind you why they are still missed.
Associated Press
But despite the largely unfavourable response from critics, Free As A Bird actually sold more than 120,000 copies in its first week, and actually reached number 1 on the music industry unpublished mid week chart. But by the time the official listing was announced the following Sunday, it had been overtaken. At the time, therefore, the Beatles remained joint holders - with Elvis Presley - of the UK's most-number-1-hits record, both acts having topped the charts 17 times.
On the 'Network Chart', however, compiled and used by independent radio and ITV television programmes, the single did make number 1, but, in a situation similar to the 1963 placing for Please Please Me, this fact is unlikely to be recognised by the history books.


---
Sources include : Reuters 13 Nov 95; Associated Press; Beatles Monthly No. 236 Dec 95, No. 237 Jan 96 (Beat Publications)
---
Last Entry : November 1995 Release
Main Contents
Next Entry : March 1996 release