1995
---
Tuesday 21st November 1995


LP release: The Beatles Anthology 1
Parlophone/Apple (double CD)/(double cassette)/(triple vinyl). 1: 'Free As A Bird'; 'We Were Four Guys...' (John Lennon spoken word); 'That'll Be The Day'; 'In Spite Of All The Danger' ; 'Sometimes I'd Borrow...' (Paul McCartney spoken word); 'Hallelujah I Love Her So'; 'You'll Be Mine'; 'Cayenne'; 'My Bonnie' (Tony Sheridan on lead vocals); 'Ain't She Sweet'; 'Cry For A Shadow'; 'Brian Was A Beautiful Guy...' (John Lennon Spoken word); 'I Secured Them...' (Brian Epstein spoken word); 'Searching'; 'Three Cool Cats'; 'The Sheik Of Araby'; 'Like Dreamers Do'; 'Hello Little Girl'; 'Well The Recording Test...' (Brian Epstein spoken word); 'Besame Mucho'; 'Love Me Do'; 'How Do You Do It'; 'Please Please Me'; 'One After 909'; 'One After 909'; 'Lend Me Your Comb'; 'I'll Get You'; 'We Were Performers...' (John Lennon spoken word); 'I Saw Her Standing There'; 'From Me To You'; 'Money'; 'You Really Got A Hold On Me'; 'Roll Over Beethoven' 2. 'She Loves You'; 'Till There Was You'; 'Twist And Shout'; 'This Boy'; 'I Want To Hold Your Hand'; 'Boys What I Was Thinking...' (Beatles & Ernie Wise spoken word); 'Moonlight Bay'; 'Can't Buy Me Love'; 'All My Loving'; 'You Can't Do That'; 'And I Love Her'; 'A Hard Day's Night'; 'I Wanna Be Your Man'; 'Long Tall Sally'; 'Boys'; 'Shout'; 'I'll Be Back' (EMI take #2); 'I'll Be Back'; 'You Know What To Do'; 'No Reply'; 'Mr Moonlight'; 'Leave My Kitten Alone'; 'No Reply'; 'Eight Days A Week'; 'Eight Days A Week'; 'Kansas City/Hey Hey Hey'.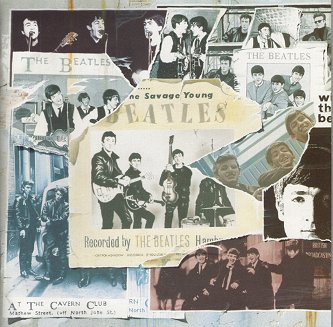 After decades of ignoring the pleas of fans, EMI and Apple, admidst extraordinary media hype, finally opened the doors to the Abbey Road vaults - and dug up more besides. Aimed very much at the hardcore fans, who already owned the Beatles back catalogue, The Beatles Anthology Volume 1 featured an extraordinary 60 tracks, a combination of largely unreleased studio music, live recordings, radio and TV sessions and the Beatles' own private tapes. The deluxe booklet (48 pages on the CD) includes an 8,000 word sleeve note by Mark Lewisohn .
Paul: What we do is we lead the CD with the new song, Free As A Bird, which we figure is what people are waiting to hear, how we did on that. So that's the opening track. Then what we do is flashback...
At last fans got to hear the Quarry Men's That'll Be The Day in full, and In Spite Of All The Danger, a Beatles legend, was finally unveiled as the earliest known recording of a Harrison or McCartney song. Interestingly, though, In Spite Of All The Danger, the Beatles' only doo-wop ballad, appears here in edited form. The Anthology 1 version runs for just 2.45, while McCartney's priceless original shellac acetate clocks in at 3.25.
Paul: The strangest thing for me, listening to it, is that it's like drowning, it's like your life flashing by in front of you. From the earliest things by me and John when we used to sag off school and the earliest demo tape we ever made, to the first little record we made which was a version of John singing That'll Be The Day, and a little song of mine on the other side that's never been released before.

Ringo: It was always down to the music; the music is the Beatles. The first one's really exciting because there's alot of stuff from old tape recorders of Paul and John messing around, singing and playing guitars.

George: And then it goes into our Hamburg material. We recorded a couple of songs there for Polydor. Then it goes through to the Decca Audition...

Paul: Where we got turned down. You can kind of see why. You can see our development. You can see it happening on the CDs.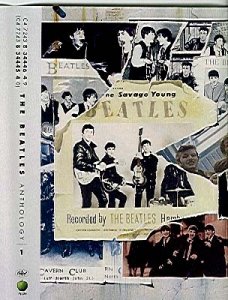 And for those never been satisfied with those he-was-too-surly / too-good-looking / wrong-hairstyle excuses, Anthology 1 also gives the best possible evidence as to why Pete Best was sacked by the band. Luckily for him, Pete is now set to receive a seven figure royalty cheque, thanks to the ten tracks he plays on here.
Pete Best seemed happy that he was "now being recognised for my contribution to the band", and even went so far as to review Anthology 1 for The Sun newspaper in the UK:
Pete Best: This is the Beatles' greatest ever album, and not just because I'm on it! Anthology 1 is a true landmark, as important as any album ever compiled. It starts with the Beatles' new single, and it's breathtaking. To hear John Lennon's voice on a new release was a truly emotional moment for me, and the other lads have done a terrific job putting it together. It's one of the most touching peices of music I've ever heard, and I defy anyone to listen to it and not get a lump in their throat. But for me the poignant tracks are those that I was involved in. Frankly, I'm bloody proud and believe they really stand the test of time.

Derek Taylor: Pete will earn a decent amount of money, which is only right. He is a good man and he deserves it. This is a new chapter for Pete Best .
George Martin - or rather his wife Judy - is the source for the previously unheard take of Love Me Do found here. Apparently Judy discovered the disc while cleaning out a cupboard at the Martin family home last year.
Musically speaking, Pete Best's performance on this EMI audition version of Love Me Do is nothing to be proud of. His drumming is competent enough on the Decca and Polydor tracks, but once he set his kit in front of George Martin, the poor man just lost it. Case dismissed. The watershed recording clearly demonstrates that Ringo Starr was essential to both the sound and energy of the Beatles success.
George Martin : Releasing material like a version of Love Me Do with Pete Best on drums has nothing to do with squeezing the lemon, because the Beatles aren't together any more. It has been released to show people how the group really were.

Ringo: Then we get into the records themselves and we get into crossfading like take one to take four on some of them where we were just working the song out, still running through it because we always ran through the song, sat down when the tape was running and said let's do this and that. Seven takes changed the whole thing, working at it, changing it. So there's some of that crossfading on which is really exciting.
The out-take of Please Please Me is fascinating, suggesting that the famous 'slow' version must date from the June audition and was probably never recorded by the EMI engineers.
The Around The Beatles material, appearing here in stereo for the first time, includes the unreleased and unbootlegged Boys.
George: It just keeps on coming. There's alot of stuff that hasn't been heard.
For example Harrison's little charmer, You Know What To Do was also given its first ever release:
Paul:There was a song of George's that the engineer Allan Rouse discovered. EMI didn't know they had it. When they called in anything anyone had in Abbey Road, or EMI worldwide, with 'Beatles' on the box, this arrived. They thought it was lost. I do believe there will be a bunch of people interested in hearing the George Harrison song from thirty years ago that no one to this day had heard. It's not the greatest thing that George ever wrote, but it's an undiscovered nugget. If you find a little Egyptian pot, it doesn't have to be the greatest Egyptian pot. The fact that it is Egyptian is enough.
George: People have written about this song, but I have no recollection of ever doing it. It must have been something where I had a song, got to the studio and by the sound of it, sounds just like me playing electric guitar and Ringo playing the tambourine. So, the only thing I can imagine was that I played the song and the engineer was recording it, and this I wouldn t even have said it was a demo, it hadn't even got to the demo stage, it has nothing else on it. But because it's kind of 30 odd years old, it now has some importance.
And with its new close-harmony intro and alternate vocal inflection in the chorus, the complete out-take of Eight Days A Week virtually re-writes the entire emotional complexion of the song, possible even for the better.
Paul: There's John singing Leave My Kitten Alone, a really good take that's never been released.
The Anthology discs were packaged in the old fashioned 'clamshell' boxes, similar to all the previous Beatles double CDs. EMI employed stringent security procedures to prevent any copies of the Free As A Bird single or the album being leaked before 21st November. To that end, EMI's usual distribution network was by-passed and entire stocks of both the forthcoming single and the album were shipped to retail outlets on the day of release.
Anthology 1 entered the UK charts at number 2, setting a world record for the biggest double album sales in a week, and by mid December EMI reported that the album had qualified for double-platinum in the UK and they'd shifted seven million copies worldwide. In the United States nearly one million copies were bought in the first week.
Paul McCartney: It is fabulous and incredible that, 30 years on, the Beatles are selling as if it's the new thing. I'm just very proud.
---
Sources include : Mojo Magazine Dec 95; Sun Newspaper (UK); Independent On Sunday 16th Jul 95; Beatles Monthly No. 235 Nov 95, No. 236 Dec 95, No. 237 Jan 96; Anthology Promotional Video (Apple)
---
Last Entry : May 1995 Session
Main Contents
Next Entry : December 1995 Release