1995
---
May 22 1995 to 1996


Abbey Road Studio Two/Penthouse Mixing Suite. Mixing/Editing (precise mixing details unknown) : (all tracks that appear on The Beatles Anthology Vol 1-3 releases, bonus tracks on Free As A Bird single releases and Real Love single releases).
P: George Martin. E: Geoff Emerick.

According to an excellent and lengthy article in L.R.E King's book Fixing A Hole, the first time anyone at EMI officially went looking through the archives for unreleased Beatles material was in 1976, when the Beatles contract with them legally expired.

At irregular intervals between then and 1985, EMI executives and staff, including Geoff Emerick, worked on mixing and compiling a single album of previously unreleased material eventually called Sessions. Although the album made it as far as the test pressing stage (and was subsequently bootlegged), the whole project was finally abandoned (mainly due to the objections of George, Paul and Ringo, who were apparently never consulted about the album) and the EMI tapes were left to gather dust for another decade.
Eventually, in 1995, immediately after the completion of the Live At The BBC album, the remaining Beatles and George Martin began compiling and mixing unreleased Beatles material for the forthcoming Anthology series of archive CDs.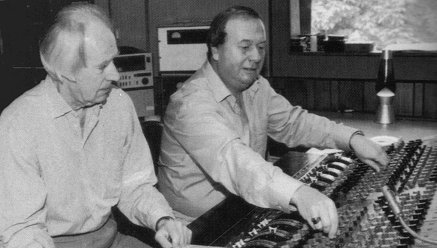 George Martin & Geoff Emerick
George Martin: I am trying to tell the story of the Beatles lives in music, from the moment they met to the moment they split up in 1970. I have listened to everything we ever recorded together. Every take of every song, every track of every take, virtually everything that was ever committed to tape and labelled 'Beatles'. I've heard about 600 separate items in all. I didn't start any serious listening until early this year, when I got Paul, George and Ringo to come in occasionally and listen with me (the Beatles began attending these sessions on 31st March 1995).
The material guarded at Abbey Road Studios was largely in excellent condition. In fact in 1988, Abbey Road engineer Allan Rouse was given the mammoth task of copying all of the Beatles' analogue recordings onto digital as a safety precaution. As a result, Rouse holds the unique distinction of being the only person to have heard literally every surviving Beatles tape stored at Abbey Road (historian Mark Lewisohn comes close, but even he didn't have the time to listen to everything when he spent several months compiling his stunning Complete Beatles Recording Sessions guide). Allan Rouse quickly joined the Anthology project, serving as co-ordinator and George Martin's assistant.
George Martin: They really know how to look after their tapes. Those that they have kept, that is, because they destroyed an awful lot of the early ones. In fact, there are few tapes left from the early 1962-63 sessions. A lot of the material that has come to light from that period has been in the from of laquers and acetate discs. Occasionally, some quarter inch tapes have emerged, but no masters as such. We only managed to get hold of two tracks from the very first session the boys did in June 1962, and I happened to have one of them. My wife found it and it transpired that no one else had it. That was Love Me Do, the other being Besame Mucho, both with Pete Best on drums. There are other things which I thought had gone forever, such as an early version of Please Please Me which we recorded in September 1962. It doesn't have the harmonica on it but it's very interesting, with a totally different drum sound.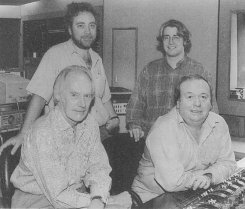 Clockwise from bottom left:
George Martin, his assistant and co-ordinator Allan Rouse,
Paul Hicks and Geoff Emerick
Archived Beatle tapes are never allowed outside the Abbey Road building. As a result, all the listening and subsequent mixing sessions were held at the studio's penthouse suite. The normally beneficial modern technology that is plentiful at Abbey Road posed a dilemma for George Martin.
George Martin: If I was going to remix a recording made in the 1960s on four or even eight tracks, there would be no point in processing it in a modern manner. What I really wanted was an old valve desk, although I knew that it would be causing more trouble that it was worth, because if we found something suitable it would inevitably be unreliable. To our great fortune we discovered this early 1970s console and there is no question that it does affect the sound.

Geoff Emerick: We discovered that Jeff Jarrett, who used to be an engineer at Abbey Road an actually did some work with the Beatles, had bought one of these old consoles when it was sold off in 1987. It was one of EMI's first transistorised TG Series desks, and although this particular one had been taken out of the studio, and adapted for use by Mobile Recording Unit, it was basically the same desk that I'd used for the Abbey Road album
US$788,000 worth of modern equipment was replaced with this 1970s mixing board for a string of mixing sessions which began in earnest at Abbey Road on 22nd May 1995 (precise mixing details and dates are unknown, although the old mixing console was installed in the Penthouse Studio for around sixteen weeks in total that stretched into 1996).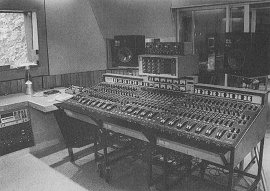 The old mixing desk back in place
George Martin: In the spirit of the exercise I couldn't justify using modern effects processors like digital reverb, or even echo plates, which didn't exist in the 60s. The only way we could achieve echo was by using either a chamber or tape delay. Unfortunately, neither of the two echo chambers that we used at Abbey Road was available. One has an enormous electrical plant in it, emitting terrible humming noises. Eventually they were able to dig out and refurbish the second chamber to make it work for us the way it used to, even to the extent of putting back a lot of the old metalwork sewage pipes, which were originally glazed and actually contributed to the chamber's acoustic qualities.
As each item was eventually given approval by the Beatles, it was passed onto Geoff Emerick and his assistant, Paul Hicks (son of Hollies guitarist Tony Hicks) for remixing.
Geoff Emerick: I have fought very shy of being pushed into using alot of the modern devices. So many of today's digital processors are based on the sounds that we used to achieve manually, but quite honestly I don't think they sound as good. We can still get those sounds by old methods quite easily, and much quicker too. In fact, thinking about it we haven't really progressed that far, if anything it's probably the opposite. The old 4-track masters are on one inch tape, so every track is almost a quarter of an inch wide. As a result, apart from the lack of noise, the quality of the bass is outstanding, you just can't create that now. The same applies to the snare and and bass sound, they sound so natural it's uncanny.
---
Sources include: Allan Kozinn; The Complete Beatles Recording Sessions - Mark Lewisohn (Hamlyn Publishing 1988); Fixing A Hole - LRE King (Storyteller Productions 1989); Mojo Magazine Dec 95; Independent On Sunday 16th Jul 95; Q Magazine Jun 97; Abbey Road - Southall/Vince/Rouse (Omnibus Press 97); Beatles Monthly No. 235 Nov 95, No. 236 Dec 95, No. 249 Jan 97 (Beat Publications)
---
Last Entry : 30th November 1994 Release
Main Contents
Next Entry : 6th & 7th February 1995 Session