1996
---
Monday 12 October


LP release: The Beatles Anthology 3
Parlophone/Apple (double CD)/(double cassette)/(triple vinyl). 1: 'A Beginning' (George Martin); 'Happiness Is A Warm Gun'; 'Helter Skelter'; 'Mean Mr Mustard'; 'Polythene Pam'; 'Glass Onion'; 'Junk'; 'Piggies'; 'Honey Pie'; 'Don't Pass Me By'; 'Obladi-Oblada'; 'Good Night'; 'Cry Baby Cry'; 'Blackbird'; 'Sexy Sadie'; 'While My Guitar Gently Weeps'; 'Hey Jude'; 'Not Guilty'; 'Mother Nature's Son'; 'Glass Onion'; 'Rocky Racoon'; 'What's The New Mary Jane'; 'Step Inside Love/Los Paranoias'; 'I'm So Tired'; 'I Will'; 'Why Don't We Do It In The Road'; 'Julia'. 2: 'I've Got A Feeling'; 'She Came In Through The Bathroom Window'; 'Dig A Pony'; 'Two Of Us'; 'For You Blue'; 'Teddy Boy'; 'Rip It Up/Shake Rattle And Roll/Blue Seude Shoes'; 'The Long And Winding Road'; 'Oh Darling'; 'All Things Must Pass'; 'Mailman Bring Me No More Blues'; 'Get Back'; 'Old Brown Shoe'; 'Octopus's Garden'; 'Maxwell's Silver Hammer'; 'Something'; 'Come Together'; 'Come And Get It'; 'Ain't She Sweet'; 'Because'; 'Let It Be'; 'I Me Mine'; 'The End'.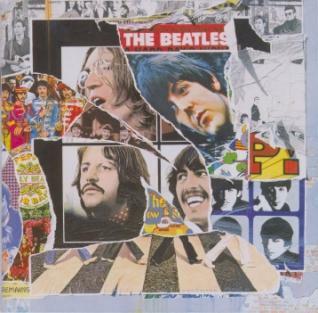 As with the previous Anthology, the release date for Anthology 3 was mysteriously delayed by several weeks. This time the dispute apparently did not involve the actual contents of the CD, and insider reports suggest the problem may have been an internal dispute over the precise wording of songwriting credits for certain Anthology 3 songs.
The third and final chapter from the Anthology collection, comprises 2 and a half hours of first takes, out-takes and never before heard recordings from the period 1968-1970.
Press reviews, with the exception of a few, were mixed at best:
"If Anthology 2 was the parallel Beatles , stacked with portmanteau mixes which would never have existed otherwise, then 3 is The Beatles Unplugged. Naked genius, no less"
Melody Maker
"Anthology 3 is an enthralling glimpse between the shutters of a band in chaos"
NME
"Never again will the post-fab three match the style and scope of these lovingly compiled volumes of classic curiosities and indubitable delights"
Time Out
"It's an unprettified final shot that reveals them as real people who just happened to be musical geniuses"
The Guardian
The Independant reviewed What's The New Mary Jane as "a naive, stumbling piano number that dissolves in a musique concrete collage of surprising gentleness" and Paul McCartney claimed it was a song he was "especially pleased with."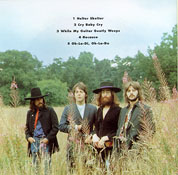 McCartney also listed other favourites from the album including:
While My Guitar Gently Weeps: "Just George on acoustic and nothing else, no Beatles, no Clapton playing the lead."

Dig A Pony: " John and I sing like angels, to be modest. Man, John and I are having such a good time on it, you can just tell in our voices."

Two Of Us: "There's one song called Two Of Us, a little bit of an Everley Brothers thing between John and I. And the atmosphere on it is really very good."

Teddy Boy: "On the new Anthology we do Teddy Boy which was considered as a Beatles song but we never got around to it. We've now put together a version, an edit of one of the takes of us trying it, which sounds interesting. But you can actually hear on it, also, that the band wasn't very interested in it. I don't know why. Maybe I hadn't finished it enough or something. Maybe it was just tension coming in. The bit I'd like to keep actually, was John sort of making fun of it. He starts towards the end of it going "Grab your partners, do-si-do!" So we've kept that on. And while it was in some way indicative of friction, it also was good humoured friction."

The Long And Winding Road: "We actually use take one, which is interesting. We've taken off all the singers and all the strings and everything. And it's just a plain, straightforward version. It really didn't need all the other stuff. That's one thing I was saying to George Martin, we often looked at each other and said, "Why did we do those thirty other takes? The first was perfectly good."

Come And Get It: "A straightforward pop song, you know, with the old innuendos: come and get what?"

Let It Be: "And then we do a nice version, I think a very early version, of Let It Be. This is kind of nice and rough and ready."
Yoko Ono was similarly impressed with the whole project, "The Anthology albums were like a jewel. They showed how really talented they were. You get a feeling of how laid-back the '60s were. You don't get that from groups today. Some of them are really violent. It's nice to bring back the feeling of joy of the Beatles ."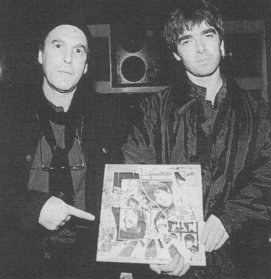 Neil Aspinall (Apple) & Noel Gallagher (Oasis)
at the launch of Anthology 3



The Beatles apparently rejected the idea of releasing the soulful version of Helter Skelter as a single.
Over in the States, Anthology 3 entered the album charts at No.1 - their 18th chart topping album in the US and their third consecutive US. No.1 in a year- a feat not achieved since the 60s.
In America, the combined sales of all three Anthology packages, plus the group's back catalogue, ensured that the Beatles took the remarkable accolade of being 1996s top selling album act - 32 years after they first achieved this status. In fact official figures show that the group sold more albums in 1996 than they did in any year since the 1960s.
Neil Aspinall: With the Anthology series George Martin has trawled through everything, taken the best stuff and they've put it all out. They haven't left stuff there, thinking, "We can put that out later", or "If we do a box set of Anthology in a couple of years time then we can have a few bonus tracks on there." The bonus tracks are already on there.
"And so to bed. Fabs split, working approach becomes increasingly individualistic, but innate quality still shines through. In all likelihood, 'Anth' Three is last Beatles record ever, although 'never can tell' conclusion probably wise"
Q Magazine



Paul: Ends are beginnings and beginnings are ends.
Ringo: This is the end of the beginning.
George: Well it's always the end of the beginning isn't it? Play the game existence till the end of the beginning.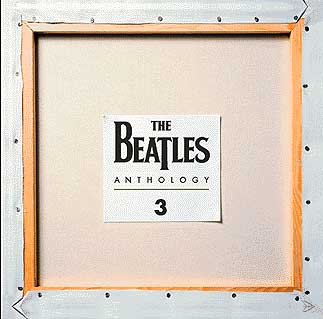 ---
Sources include: Mojo Aug 96, Oct 96; Q Magazine Jun 97; Beatles Monthly No. 244 Aug 96, No. 246 Oct 96, No. 247 Nov 96, No. 248 Dec 96 (Beat Publications Ltd), Anthology Promotional Video (Apple)
---
Last Entry : March 1996 Release
Main Contents
Next Entry : August 2000 Release