1996
---
Monday 18 March


LP release: The Beatles Anthology 2
Parlophone/Apple (double CD)/(double cassette)/(triple vinyl). 1: 'Real Love'; 'Yes It Is'; 'I'm Down'; 'You've Got To Hide Your Love Away'; 'If You've Got Trouble'; 'That Means A Lot'; 'Yesterday'; 'It's Only Love'; 'I Feel Fine'; 'Ticket To Ride'; 'Yesterday'; 'Help'; 'Everybody's Trying To Be My Baby'; 'Norwegian Wood'; 'I'm Looking Through You'; 'Twelve Bar Original'; 'Tomorrow Never Knows'; 'Got To Get You Into My Life'; 'And Your Bird Can Sing'; 'Taxman'; 'Eleanor Rigby'; 'I'm Only Sleeping'; 'I'm Only Sleeping'; 'Rock And Roll Music'; 'She's A Woman' 2: 'Strawberry Fields Forever'; 'Strawberry Fields Forever'; 'Strawberry Fields Forever'; 'Penny Lane'; 'A Day In The Life'; 'Good Morning Good Morning'; Only A Northern Song'; Being For The Benefit Of Mr Kite'; 'Lucy In The Sky With Diamonds'; Within You Without You'; 'Sgt Pepper's Lonely Hearts Club Band'; 'You Know My Name Look Up The Number'; 'I Am The Walrus'; 'The Fool On The Hill'; 'Your Mother Should Know'; 'The Fool On The Hill'; 'Hello Goodbye'; 'Lady Madonna'; 'Across The Universe'.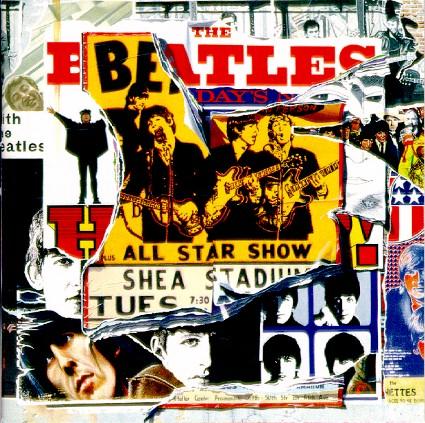 At the beginning of February 1996, EMI revealed that the delay in release of the Anthology 2 album (put back from 26th February to 18th March) was down to the Beatles' last minute change in running order. This meant that I'm Down, which had been listed as track 6, was moved to track 3. The change came after no fewer than two and a half million CD booklets had already been printed and the cost of the reprinting has been estimated at around 500,000 English pounds. Unconfirmed rumours suggest it was Paul McCartney alone who insisted on the change and Paul McCartney alone who shelled out for the cost of reprinting the packaging.
Anthology 2 covers the Beatles studio years from February 1965 to February 1968 (which most people regard as their peak period as songwriters and musicians), adding a couple of live songs en route. The music is unfinished, previously unreleased and in a state of flux. Nevertheless, taken as a 45 song body of evidence, it is inferior to no music. George Martin and his engineers created new versions of many songs by piecing together portions from several different out-takes, newly assembled collages which demonstrate the growth of a particular track.
After track one, the second new Beatles song, Real Love we enter the band's secret world. With the exception of I'm Down (bizarrely shifted out of sequence at the last minute at enormous expense) George Martin has opted for a strict chronological approach.
It isn't so much that Anthology 2 has previously unheard songs, it's the fact that we see so many songs in early takes. Among Paul McCartney's favourites is the alternate version of the Revolver song And Your Bird Can Sing, featuring an appealing 12 string guitar part a la the Byrds, but wrecked by a fit of Lennon and McCartney giggling:
Paul: We couldn't have put it out then. It would have been, 'How fucking indulgent of them, are they kidding?' But now it just sounds like a hoot.
Then from November 1966 Lennon sings an electric guitar demo and then the gentle, haunting first take of Strawberry Fields Forever (which intriguingly doesn't have the lush harmony vocals heard on the bootleg version of the track).
Similar birthings can be heard for many other songs, I'm Looking Through You (a garage punk prototype), Tomorrow Never Knows (embryonic drone), Good Morning Good Morning (an excellent rock trio version), Sgt Pepper's Lonely Hearts Club Band (Paul's raucous rendition), I Am The Walrus (sans overdubs yet still sounding pioneering) and, arguably, most enthralling of all, A Day In The Life.
George Harrison: We've tried to create a lot of the most famous songs but totally different versions of them.
Compiled from various outtakes exclusively for Anthology 2 , this edit of A Day In The Life is a sort of parallel universe equivalent of the one we all know. Everything is unknown, new, fresh, fantastic and unexpected. No final crashing piano chord, just McCartney talking.
These Beatles demos contain not only massive historical import but also massive musical value. They confirm that the Beatles' heads were extraordinarily fertile orbs in the years 1965-68 and that history could change in a week, or even in an hour.
The unaugmented, alternate take of the legendarily lovely Lennon song, Across The Universe, ends the album on a thrillingly cosmic note.
The majority of reviews for this second in the series of retrospective CDs were positively ecstatic. Q magazine awarded Anthology 2 four start status (out of five), describing it as "magnificent". The film magazine, Empire, seemed to agree and quipped, "Even in rehearsal the Beatles shook the world" and Q Magazine noted "talent of Macca glows like a nuclear accident".
First week sales in the UK were said to be 78,000 (against 125,000 for Anthology 1 and 148,000 for Live At The BBC) and the album entered the chart at no 1.
In the USA Anthology 2 sold around 440,000 copies (about half that of its predecessor) in its first week, again entering the chart at no 1.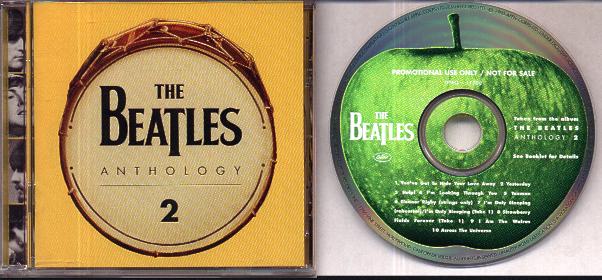 ---
Sources include : Q Magazine Jun 97; Beatles Monthly No. 239 Mar 96; Anthology Promotional Video (Apple)
---
Last Entry :March 1996 Release
Main Contents
Next Entry : October 1996 Release