1995
---
Monday 6 March

Single release: 'Baby It's You';'I'll Follow The Sun'; 'Devil In Her Heart';'Boys'. Parlophone/Apple (vinyl)/(cassette)/(CD).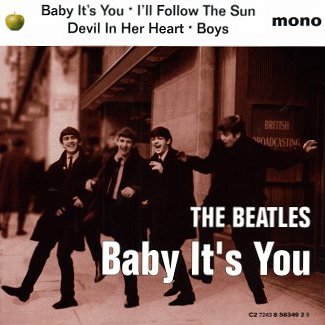 The coupling of Solider Of Love backed with I'll Be On My Way was EMI's initial choice for the 27th official Beatles single, to be taken from the Live At The BBC album, but the idea was dropped in favour of Capitol records suggestion; Baby It's You.
Athough retailing at a standard single price, Baby It's You was marketed as a four track EP (including three additional BBC recordings) with packaging to match the EP designs of the 1960s.
The cover photo showed the Beatles walking away from the Paris Theatre Studio, as seen on the back of the BBC album, and there were also new sleeve notes from BBC producer Kevin Howlett.
Each Beatle was represented by a lead vocal performance and the three extra titles, I'll Follow The Sun, Devil In Her Heart, and Boys, were all previously unissued BBC recordings.
The delay between the single and the corresponding Live At The BBC album release was put down to choosing suitable recordings for the bonus tracks, compounded by the search for relevant footage for use in the accompanying promotional video, which was compiled by Apple Productions, the company currently working on the Beatles' Anthology documentaries.
The single entered the British charts at Number 7 on 1st April.
---
Sources include: Beatles Monthly No. 225 Jan 95, No. 227 Mar 95 (Beat Publications Ltd)
---
Last Entry : February 1995 Session
Main Contents
Next Entry : March 1995 Session