1994
---
Wednesday 30 November

LP release: Live At The BBC. Parlophone/Apple (vinyl LP)/(double cassette)/(double CD). 1: 'Beatle Greetings' (Speech Track); 'From Us To You'; 'Riding On A Bus' (Speech Track); 'I Got A Woman'; 'Too Much Monkey Business'; 'Keep Your Hands Off My Baby'; 'I'll Be On My Way'; 'Young Blood'; 'A Shot Of Rhythm And Blues'; 'Sure To Fall'; 'Some Other Guy'; 'Thank You Girl'; 'Sha La La La La' (Speech Track); 'Baby It's You'; 'That's All Right Mamma'; 'Carol'; 'Soldier Of Love'; 'A Little Rhyme' (Speech Track); 'Clarabella'; 'I'm Gonna Sit Right Down And Cry Over You'; Crying Waiting Hoping'; 'Dear Wack' (Speech Track); 'You Really Got A Hold On Me'; 'To Know Her Is To Love Her'; 'A Taste Of Honey'; 'Long Tall Sally'; 'I Saw Her Standing There'; 'The Honeymoon Song'; 'Johnny B Goode'; 'Memphis Tenessee'; 'Lucille'; 'Can't Buy Me Love'; 'From Fluff To You' (Speech Track); 'Till There Was You'. 2: 'Crinsk Dee Night' (Speech Track); A Hard Day's Night'; 'Have A Banana' (Speech Track); 'I Wanna Be Your Man'; 'Just A Rumour' (Speech Track); 'Roll Over Beethoven'; 'All My Loving'; 'Things We Said Today'; 'She's A Woman'; 'Sweet Little Sixteen'; '1822' (Speech Track); 'Lonesome Tears In My Eyes'; 'Nothing Shaking'; 'The Hippy Hippy Shake'; 'Glad All Over'; 'I Just Don't Understand'; 'So How Come (No One Loves Me)'; 'I Feel Fine'; 'I'm A Loser'; 'Everybody's Trying To Be My Baby'; 'Rock And Roll Music'; 'Ticket To Ride'; 'Dizzy Miss Lizzy'; 'Kansas City/Hey Hey Hey'; 'Set Fire To That Lot' (Speech Track); 'Matchbox'; 'I Forgot To Remember To Forget'; 'Love Those Goon Shows' (Speech Track); 'I Got To Find My Baby'; 'Ooh! My Soul'; 'Ooh! My Arms' (Speech Track); 'Don't Ever Change'; 'Slow Down'; 'Honey Don't'; 'Love Me Do'.

In a surprise move, EMI announced on 28th October 1994 the long awaited release of Live At The BBC, the official compilation of the Beatles' legendary BBC radio sessions. The double length album, which was first mooted as long ago as 1979, finally arrived on 30th November 1994, just in time for the Christmas market.
The two disc set was one of the fastest and biggest selling (eight million copies) albums of the year. Due to an unexpectedly massive demand for the album, CD stocks sold out almost immediately, leaving hundreds of thousands of orders unfulfilled. Despite this debacle, it debuted at number 3 in America and number 1 in Britain.
The CDs, with a running time in excess of seventy minutes each, contain a 48 page booklet with an introduction by Derek Taylor. Sleeve notes from BBC producer Kevin Howlett detail the recording dates of each track and their corresponding original radio broadcast details. The album comprises 69 indexed tracks, taken from many Beatles BBC radio broadcasts from 1963 to 1965. Also included are thirteen original spoken word items.
Live At The BBC is an adrenalin fuelled magic carpet ride to the era before psychedelia, before political pop, before the world lost its innocent, naive enthusiasm for the starmaking machinery. Assembled by George Martin, Live At The BBC comes closer to anything to capturing the essence of the hundreds of live Beatles shows at the Cavern in the years leading up to their world conquest.
Ringo: It was a really cool album. I knew it would do OK, but it just took off. It was great. I love it because it showed people weren't just fab and famous, we were really cool musicians. That was really how we played. We started live.
Almost all of the songs that the Beatles never recorded at EMI are included on Live At The BBC, with the exception of early renditions of Dream Baby, Besame Mucho, A Picture Of You and I'm Talking About You (no quality tapes of all four tracks seem to have survived). The only major omissions are Lend Me Your Comb (later to be released on Anthology 1) and Beautiful Dreamer.
It's common knowledge that the BBC only kept two of the Beatles' radio sessions in their archive, and only one of those was complete. In the 1980s, the BBC missed the opportunity to purchase a collection of top quality recordings from a listener (who had taped them on industry standard equipment back in the 1960s) on the basis that, technically and legally speaking, they already owned the material anyway. The listener sold out to the highest bidder which, not suprisingly, resulted in a thirteen LP bootleg series.

Luckily for EMI, a major source of audio then came from the widow of an avid home audiotape collector from the time, who sold her husband's original reel-to-reel tapes directly to EMI for an undisclosed sum. This purchase was somewhat of an embarrassment for the company as they had already paid a large sum of money to George Martin who had been remixing other tapes previously acquired.

But there were still a few gaps to be filled and it was for this reason that contact had to made with some 'alternative sources'.
Kevin Howlett: Some people phoned up and said they had some tapes. One journeyed down to London with his five inch reels and that's how Keep Your Hands Off My Baby appeared on the album. Over the years, it's really been a process of putting the Beatles archive back together really, as more and more stuff has come to light. We came across two ten inch reels with 'The Beatles' on the spine. One of these was a half hour reel featuring them larking around for the 65 Christmas show. The other half hour reel included them performing I Feel Fine and She's A Woman. It had false starts, takes which broke down half way through and talkback between the group and the control room. It was fascinating. It's just a question of how well the material has lasted over the years and in what form. I can remember George Martin saying to me that a disc is quite a good storage medium and that he was quite happy to master from it.
Guided as much by the demands of sound quality as by musical perfectionism, the album was compiled by Beatles producer George Martin over several years, but precise mixing dates and details are not available. In the case of Keep Your Hands Off My Baby Martin realised that Lennon's performance was so staggering that the abrupt drop in reproduction quality paled alongside the impact of the music. Elsewhere, there are moments where the sound on the thin, flawed tapes distort a little, or waver in volume.
When work on the Beatles project began in earnest around the middle of 1992, engineer Peter Mew became involved utilising the SonicSolutions computer enhancement system at Abbey Road. One of the problems which Peter had to contend with was sound dropouts, especially when working with some of the rarer recordings. Whilst he was able to repair most of them, there were still a few instances where this was just not possible.
Peter Mew: After George Martin had chosen the tracks they were passed over to me for de-noising, EQing and all the rest of it. Over the period of two and a half years that album went through various changes, running order changes, title changes and things like that. Overall it must have gone through seven different versions. Coming from so many different sources, each track had its own problems. The art of using a computer system is that they allow you to take very small slithers of sound from elsewhere and patch them in. But if you can't find a matching piece of sound from somewhere else in the song you just can't do it. On A Taste Of Honey, for instance, there's an analogue dropout that has bugged me from the word go, but I couldn't do anything about it because that piece of sound wasn't repeated anywhere else in the song.
Details of the BBC Beatles recordings can be found in The Complete Beatles Chronicle by Mark Lewisohn (Pyramid Books 1992).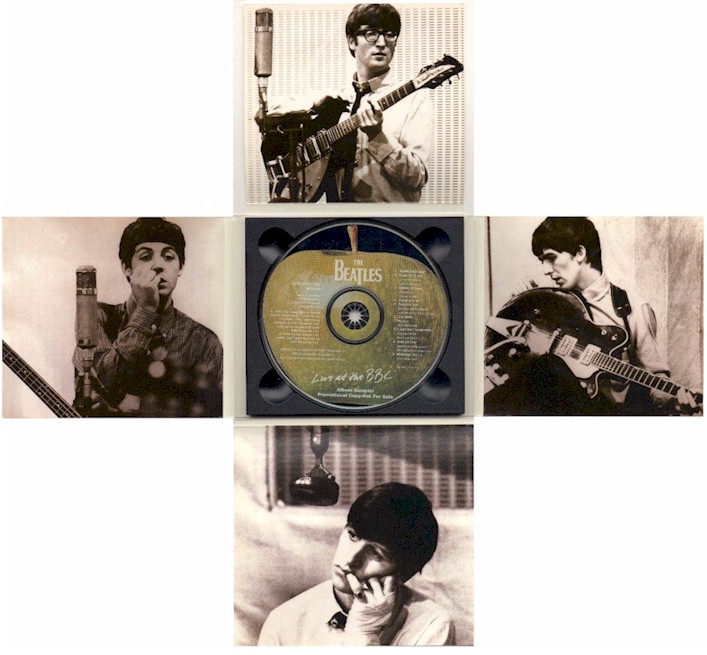 ---
Sources include: Mojo Magazine Dec 95; The Beatles After The Breakup (Keith Badman - Omnibus Press); Beatles Monthly No. 224 Dec 94, No. 236 Dec 95 (Beat Publications Ltd)
---
Last Entry : June 1994 Session
Main Contents
Next Entry : Early 1995 Session